Cathie's Blog
Thursday, October 20, 2005
You had me at "You are bidding on a mistake"....
http://cgi.ebay.com/ws/eBayISAPI.dll?ViewItem&item=8335653541
Thanks Jenny!
Posted by Catronics :: 10/20/2005 :: 0 Comments:

-------------------------------------
Wednesday, October 19, 2005
FYI kids......a message from Tita:

WILMAAAAAAAAAAAAAAAAAAAAAAAAAAAA!!!!!

Okay, folks....due to our SELFLESS and RESPONSIBLE attitude regarding your safety and (more importantly) the safety of our karaoke DJ, we are bumping this par-tay up to this Friday, October 21st. Same time and same rules apply.

Let's review:
1. Jessica's house @ 9pm
2. We only require your PRESENCE, not necessarily your TALENT
3. Irreverent behavior and flash photography always encouraged.

Alright....that's it. GAME ON for Friday!!! Woohoo!!! See you then!!!

Oh, and....Thank you. Thank you very much.
Posted by Catronics :: 10/19/2005 :: 0 Comments:

-------------------------------------
Tuesday, October 18, 2005
"When you wake up in the morning, you never know where the day will take you...."

So, I was totally on my way to the gym when Tita came over to play "'Lektronic Battleship" with Allison (which Allison is VERY good at, by the way), and Ben called. It seems one of his clients gave him their suite at the AAA for...none other than the…World Famous….ROLLING STONES! Now, I don't really know many Stones songs, but I agreed to go because….well..…it's the Stones Baby! I figured it was worth blowing off the gym, since I have not fully recovered from Brian's Ab Class last week, and I have it again tonight. So aaaaanyways, Mama Bear and I met Tita and Ben and headed to the AAA. When we got to the entrance to get our wristbands, we asked the security who was opening. And do you know what they said? You're never gonna guess what they said. "Stone…something…" Jigga wha? Jigga who? Joss Stone???? The night just keeps getting better. So we run to the suite so we can catch some of 'Stone something' before she was done. I didn't get to see her perform "Right To Be Wrong" which is may fav, but that's OK. In the meantime, Ben ordered a bottle of Grey Goose and magic was in the air. Michael Doleac from the Miami Heat was in the suite right next to us (yeah, I totally had to look up his name because I had no idea who he was…sorry boys..not much of a basketball fan..). Shaq was there, too, but I didn't see him.

Finally, the Stones came out, and let me tell you, I have never seen a performer bring a crowd to their feet like the Stones. It was automatic…..it was systematic…it was hy-dro-matic….why, it was grease lightning (Sorry, I am super excited about being the Pink Ladies for Halloween). So we were dancing and singing and having a ball when the Stones covered Ray Charles' "Night Time is the Right Time." I LOVE Ray-Ray. I was loving this concert. THEN, Joss Stone came out and she and Mick did a little Ray Charles duet type thing. The rest of the concert was fabulous. The stage moved from one side of the arena to the other, and they sang "Get Off My Cloud" right there in front of us. In the end, we had an empty bottle of vodka, but a great night behind us.

In other news, I am trying to figure out how to put Friday night's adventures at the Hard Rock into words. I have all the pics, but I am having a little trouble truly conveying the hilarity that ensued that night. I'll try to have it done by the end of the week.

This week: Tita and Barbie's 60th birthday party! Hopefully Hurricane Wilma spares us. I don't want to miss mom doing "Rapper's Delight" on karaoke!
Posted by Catronics :: 10/18/2005 :: 2 Comments:

-------------------------------------

The Stones 10/17/05 (It's a phone pic....I know it's crappy. But it said "No Cameras" on the tickets. Which was total crap, by the way.)

Posted by Catronics :: 10/18/2005 :: 0 Comments:

-------------------------------------
Thursday, October 13, 2005
"What HAPPENED to us?"

It was supposed to be an uneventful evening over at Chez Corbet's…Jenny promised her dad's girlfriend a girls night, and by God, she was going to get one (if Jenny had anything to do with it!). Although we were all exhausted (some from the Grove Friday night…some from the boat), Jenny successfully coerced all the girls into going out. We all knew that by the end of our first drink it was going to be a long night. It tasted too good. The boys had been sent to another location, and I was fairly confident that they wouldn't show up. Then again, with Ryan in the equation, I should have known better. Girls night was going along just swimmingly, Jaeger Bombs and all, when the boys snuck into Chez's. Let's just say it was NOT pretty (see pictures below). There were more shots, more drinks, an attempt at playing pool (who won that game anyways?? I think Uri and I did, by default of course), and the music just got better by the second. There was some dancing, too, although I'm not going there. Even though there was a $400 tab (yes, $400 at Corbett's of all places), it was F-U-N.
Posted by Catronics :: 10/13/2005 :: 3 Comments:

-------------------------------------

The Girls ;)

Posted by Catronics :: 10/13/2005 :: 0 Comments:

-------------------------------------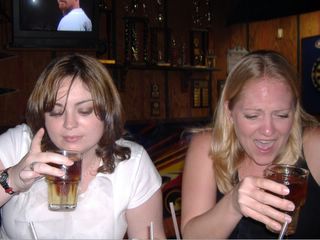 And this is how the night began.....

Posted by Catronics :: 10/13/2005 :: 1 Comments:

-------------------------------------

Ohhhhh....Ryan's in TROUBUUUUULLEEE!! (This was shortly after the boys arrival)

Posted by Catronics :: 10/13/2005 :: 1 Comments:

-------------------------------------

Mr. & Mrs. Lee

Posted by Catronics :: 10/13/2005 :: 1 Comments:

-------------------------------------

Awww...they're so cute :)

Posted by Catronics :: 10/13/2005 :: 0 Comments:

-------------------------------------

Ryan and Uri....I believe that is Richard behind Ryan (quielty hating us all).

Posted by Catronics :: 10/13/2005 :: 0 Comments:

-------------------------------------

I think this was towards the end of the evening....but look! Ryan is smoking! Shame on you B.

Posted by Catronics :: 10/13/2005 :: 0 Comments:

-------------------------------------

Yeah, this is definately towards the end of the night....

Posted by Catronics :: 10/13/2005 :: 0 Comments:

-------------------------------------

Is Ryan playing air guitar???

Posted by Catronics :: 10/13/2005 :: 0 Comments:

-------------------------------------
Wednesday, October 12, 2005
So, I'm having a little technical difficulty.....

OK, I did, in fact, get the digital camera (as many of you know). I have some HILARIOUS pics from Saturday night, but I ran into a little glitch. I installed the software to upload the pics, and flipped to Section six (6) of the manual to begin the step-by-step on how to view/crop my pics from the computer. Here's what they told me to do:

1. Turn your PC on. Check

2. Connect the camera to your PC using the USB cable. Check

3. Press the "POWER" button to turn the camera on. Check
(Make sure that the USB cable is connected correctly and pushed in! Double Check)

4. When the camera and PC are exchanging data blah blah blah...blinking green blah blah

OK, on Step 4 is when, you know, life got in the way. (Stuff to do, etc., etc.) So I didn't get to the disclaimer UNDER Step 4 that said "Use the AC power adapter to prevent losing power at inconvenient times..." Yeah, so you all know the rest of the story. I had to get new batteries, so be patient....I'll post the pics soon enough. And boys, I will not hear any complaints about the pics I post of you....you crashed girls night.
Posted by Catronics :: 10/12/2005 :: 2 Comments:

-------------------------------------
Thursday, October 06, 2005
For all those complaining....

It's been awhile since my last update, I am aware. Although there have been MANY stories to report (Tita and her cast, a couple Hurricane parties, The Shelbourne, etc.) there have been no pictures to accompany my stories. We had some from our Hurricance Katrina party, though I found it to be in bad taste to post pictures of Jill, Jenny and me out in our slickers mid-storm considering what happened on the Gulf Coast. Anyways, I will be getting my digital camea this weekend. Don't say I've never done anything for you....
Posted by Catronics :: 10/06/2005 :: 0 Comments:

-------------------------------------
In honor of the 51st Annual Columbus Day Regatta....

The Girls....



Good times!
Posted by Catronics :: 10/06/2005 :: 0 Comments:

-------------------------------------